Gaya Island Resort
Address :
Malohom Bay, Pulau Gaya, Tunku Abdul Rahman Park, 88000 Kota Kinabalu, Sabah, Malaysia
Star Ratings :

View More Hotel in :
Gaya Island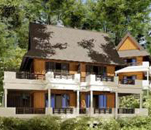 Gaya Island Resort Overview
There is a place, accessible only by boat, where all that nature has created, from sheltered coral reefs to protected mangroves, over thousands of years has been preserved by those devoted to its care. A place called Gaya Island Resort at Pulau Gaya.
Gaya Island Resort Location & Nearby Attraction

Enlarge Gaya Island Resort Location Map
Located 15-minutes off Kota Kinabalu, Sabah, Pulau Gaya is underlaid by folded sandstone and sedimentary rock and is part of the Crocker Range rock formation of the western coast of Sabah. Exposed sandstone outcrops feature on the coast of this island forming cliffs, caves, honeycombs and deep crevasses along the shore.
Gaya Island Resort Room & Accommodations

Room
Each 47 square metre villa features a spacious bedroom, a writing desk, a safe box, a flat screen television with satellite channels, a large open bathroom with an oversized bathtub and two vanity units, and an outdoor verandah with day beds.
Gaya Island Resort Facilities & Services

Facilities

Facilities

Facilities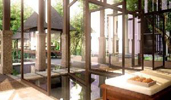 Facilities
Conference Room
Swimming Pools
Library
Shops

Important Notes of Gaya Island Resort:
Check - In Time : 14.00 p.m
Check - Out Time : 12.00 p.m
The images shown are for guidance purposes only. You may stay in a room which is different from the examples shown.
Add Hotel to online bookmark :