You Are Viewing :

Home / Tour / Brunei /

Selirong Island Mangrove Tour
Brunei Golden Tread Weaving & Country Side Tour
Package Information

Code
MBH06
SIC Frequency
Once Daily
Departure
Hotel in Jerudong - 8.30 am / Hotel in Bandar - 9.00 am
Duration
4 Hours
Meal
Nil
Description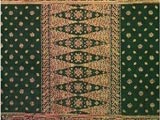 The tour starts with pick up from your hotel and go on a scenic drive to the country side of Brunei passing the Malay villages and local residential areas. The hi-light of this tour is a visit to a cottage industry factory producing the "Kain Songsarat" or Brunei traditional golden tread weaved cloth in one of the Malay villages.
The earliest recorded mention of cloth-weaving in Brunei Darussalam can be traced to Sultan Bolkiah's reign from 1485 to 1524. Magellan visited Brunei sometime during this period and his official chronicler, Antonia Pigafetta, reported seeing beautiful examples of Brunei handicrafts in particular the woven cloth.
It was common cottage industry even in those days so it is clear that woven cloth can be dated earlier than the 16th century. Like most proud traditions the art has been preserved through the centuries by the age-old system of father teaching son - only in this case, mother teaching daughter. The technology is much the same today as it was then. You will see no expensive sophisticated automatic weaving machinery; only a hand loom operated by highly skilled, artistic and patient women.
It is worn on royal and state occassions, worn by brides and grooms for marriage ceremonies and is also sometimes used as elaborate and decorative wall coverings.

Your tour ends with transfer back to your hotel.
Please Take Note :
*** This tour requires a minimum of two Brunei Government working days booking due to the requirements to obtain entry permit from the Forestry Department.
You may aslo interest with other Brunei Day Tours :

You may aslo interest with other Brunei Tours :