| | |
| --- | --- |
| | General Info |
PREVIOUS

VISIT KOREA YEAR 2001
Offficial Emblem "Cheongsachorong" The Emblem of Cheongsachorong, the traditional Korean Lantern, indicates a hearty welcome for foreign guests from all over the world on the occasion of the Visit Korea Year 2001. The English words 'Visit Korea Year 2001', arranged like an arch around the lantern, symbolize the dawning light which spreads out toward the world, bringing harmony and peace to mankind in Visit Korea Year. The colors tn the emblem derive from the blue and red in the Taegeuk symbol and the black in the 4 trigrams of the Korean national flag as well as yellow expressing light. The logo achieves a harmonious beauty combining traditional images with modern typography.

Official Mascot "Chorong-i and Saekdong-i"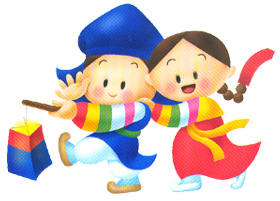 The Mascot Chorong-i and Saekdong-i are the children clothed in traditional Korean dress who appear with the traditional lantern to be used when they welcome visitors. Their cute faces and gleeful posture signify Koreans' mind to receive visitors with their pleasure.


Tour Programs Selected for Visit Korea Year 2001
In an attempt to attract more foreign visitors to Visit Korea Year 2001, the Project Team for this Event had announced a selected group of tour programs. A total of 72 programs from domestic travel agencies and 31 from foreign agencies were entered in the contest and 50 programs from 37 agencies were awarded prizes.They will be designated official tour packages for Visit Korea Year 2001 and agencies will be entitled to use the campaign mascot and emblem for promotion of these programs.
Courtesy of : KOREA NATIONAL TOURISM ORGANIZATION