| | |
| --- | --- |
| | Popular Places |
State Secretariat Building (Bangunan Sultan Ibrahim)

Built in 1940 and located on Bukit Timbalan (Deputy Hill), this building houses the state secretariat, as well as other departments of the state government. Despite the appearances of other high-rise buildings in recent years, JB's skyline is still dominated by it. The Sarascenic character and the mosaic detail, particularly of the Grand Hall, makes this one of the most interesting buildings in Johor.
Royal Abu Bakar Museum, Grand Palace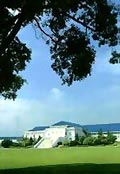 The Istana Besar (Grand Palace) was built by Sultan Abu Bakar in 1866. Sprawled over 53.8 hectares of fine, manicured lawns, the Palace itself depicts the neoclassical architecture of a past era. Today, it houses the many artifacts of the Johor Royal family, most of which were collected by the globe trotting Sultan Abu Bakar and his son, Sultan Ibrahim, on their many tours abroad. Its compound is beautifully landscaped with lush green lawns and gardens with flowers of every imaginable color. Nearby is a landscaped Japanese garden and a replica of a Japanese teahouse that was presented by the Crown Prince of Japan to the Sultan of Johor in 1936.
Sultan Abu Bakar Mosque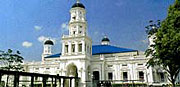 Built in 1900 with a blend of the traditional Islamic and Italian style architecture is the Sultan Abu Bakar Mosque. Set atop a hill and unveiling a breathtaking view of the Straits of Johor, this mosque is considered one of the finest in the country. Taking 8 years to complete at a staggering cost (at that time) of RM400,000, it can accommodate 2,000 worshippers.
Dataran Bandaraya (City Square)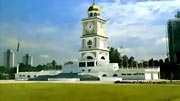 While many of JB's attractions have links to the state's early history, this is a new attraction that was built to commemorate the proclamation of JB as a city on 1st January 1994. It comprises of a clock tower that faces a series of fountains. Its raised structure and open lawns have proven to be a popular venue for outdoor performances and events.