| | |
| --- | --- |
| | Entertainment |
Nightclubs and Discotheques
Nightclubs are located in hotels and are quite expensive. Discotheques, however, are less expensive especially in the Yongdong and It'aewon areas. The discotheques in It'aewon cater to a large foreign clientele. Visitors can dance, as well as watch colorful floor shows and cabaret acts in these discotheques.
Casinos
Korea has several licensed casinos that are equipped with roulette, blackjack, poker, and other games. These casinos are open exclusively to foreigners. Most hotels also have a game room, devoted primarily to slot machines.
Seoul Dream Land
Seoul Dream land, approximately 363,000 sq. m (90 acres) in size, is the biggest and most comprehensive amusement park in Seoul. It comes equipped with the latest rides, as well as traditional facilities. Several historic sites are also located within the area, thus making it a popular entertainment attraction for both residents and visitors of Seoul.
Everland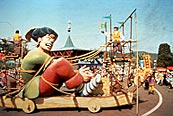 Everland is mainly divided into three parts. First on the list is the Festival World. An original theme park complex that has five theme lands: Global Fair, American Adventure, Magic Land, European Adventure, and Equatorial Adventure. Caribbean Bay, the world's first indoor and outdoor park, is equipped with a variety of water leisure facilities. These include two wave pools, 20 kinds of slides, Lazy River, Kiddi Pool, 13 spas, and more. Lastly, the Everland Speedway is heaven for car-racing lovers. Various races are held on world-class tracks throughout the year. A traditional Korean Garden called Hee Won is also located within the Everland premises. Hee Won represents the finest style of classical Korean gardens rarely found today. Ho-Am Art museum, also an item in the Everland premises, is the first private museum in Korea. It is dedicated exclusively to the collection, exhibition, and study of the arts.
Lotte World
Located in Seoul, Lotte World is a huge building that consists of movie theaters, a shopping mall, and a deluxe hotel. A sports complex that features a bowling alley, swimming pool, and an ice rink is also found inside. Puppet shows and parades are performed regularly. Lotte World Adventure, an indoor theme park, comes equipped with ultra-modern rides. It is connected to the outdoor Magic Island, another theme park that is surrounded by Sokch'on Lake. There is also a folklore center where visitors can get an overall glimpse of the 5,000-year-old Korean history through many miniatures and life-sized models.
Korean-style Bars
Korean-style bars (minsokchujom) are the working people's drinking places after a hard day's work. Visitors can enjoy native Korean drinks such as makkolli and soju. Bars are often crowded and noisy but they are a fun place to experience the local Korean touch.
Coffee Shops
Coffee shops, also known as tabang, play an important role in the Korean social life. Customers are also allowed to sit and talk over their drinks for as long as they want.
Hotel Lounges & Cocktail Bars
Hotel lounges and cocktail bars offer a secluded atmosphere. For those who prefer a quiet night out, these are the best places to patronize. English is usually spoken as they are affiliated with different hotels.
Beer Halls
Decorated in European styles, beer halls have sprung up very quickly in the last few years. Customers are expected to buy a dish of snacks with their beer. Prices are, however, lower than in nightclubs.
Movie Theaters
Korea's movie industry has grown rapidly. A few local productions have even achieved international acclaim. Foreign films, mainly from the United States, are equally as popular in Korea. These films are subtitled in Korean, thus making it easier for visitors to enjoy an evening at the movies. Films usually run continuously from 11a.m. daily.