| The Club || Facilities || Location |
| Attractions | | Marimari.com |

Bukit Unggul County Club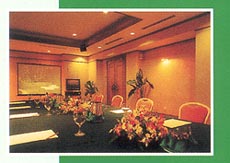 The Fairway Cafe has magnificent views of the course, in fact all 18 holes can be seen from the clubhouse. There is a panoramic view of the course and the surrounding course set in the valley below. The lakes shimmering in the sun and the bunkers contrast to the light green of the surrounding rain forest.
Apart from the fairway cafe, the club has three other food and beverage outlets - the Pavilion which serves food before, during and after their round, the Ombak which is a pool-side terrace and the Eagles Lounge. The swimming pool is strategically located jut below the Fairway Cafe and the views from here are magnificent. When the nine holes that are lighted up for night golfing the scene appears like a setting for a romantic fairy tale.
A spacious locker room, library, proshop, sauna, billiards and games room, fully equipped gymnasium and three function rooms will cater to the executive member and his guest.