FRASER'S HILL GOLF & COUNTRY CLUB

[The Club] [Facilities] [Location] [Attractions] [Marimari.com]
The Golf Course | The Score Card

Click here to view rules of GOLF
http://www.usga.org/USGASearch.aspx?q=rules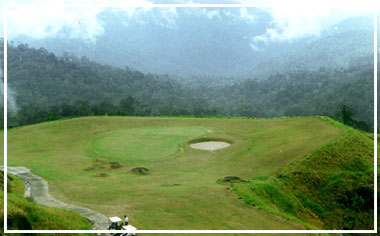 Fraser's Hill. The very name conjures up pictures of peace, tranquility, lush greenery. Sipping tea in the ambience that recalls a geenteel era. The perfect escape for the world weary, a haven of green where the coolfresh air will rejuvenate your senses.

| | | | | | | | |
| --- | --- | --- | --- | --- | --- | --- | --- |
| 01 | | | 07 | | | 13 | |
| 02 | | | 08 | | | 14 | |
| 03 | | | 09 | | | 15 | |
| 04 | | | 10 | | | 16 | |
| 05 | | | 11 | | | 17 | |
| 06 | | | 12 | | | 18 | |
The Score Card
|
TOP
|
| | | | |
| --- | --- | --- | --- |
| HOLE | | INDEX | PAR |
| 1 | | 11 | 4 |
| 2 | | 7 | 4 |
| 3 | | 2 | 4 |
| 4 | | 15 | 3 |
| 5 | | 17 | 4 |
| 6 | | 14 | 4 |
| 7 | | 4 | 5 |
| 8 | | 10 | 3 |
| 9 | | 6 | 4 |
| OUT | | - | 35 |

| | | | |
| --- | --- | --- | --- |
| HOLE | | INDEX | PAR |
| 10 | | 16 | 4 |
| 11 | | 3 | 5 |
| 12 | | 18 | 3 |
| 13 | | 1 | 5 |
| 14 | | 5 | 4 |
| 15 | | 8 | 3 |
| 16 | | 12 | 3 |
| 17 | | 13 | 4 |
| 18 | | 9 | 4 |
| IN | | - | 35 |
| OUT | | - | 35 |
| TTL | | - | 70 |