Teluk Chempedak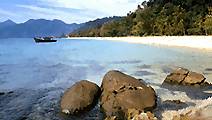 Chempedak beach is 5km from the town of Kuantan. Two world class hotels are located here. The beach is excellent for water sports' activities such as sailing, canoeing, jet-skiing, surfing, and sunbathing. For those who like jungle trekking, you can trek through Teluk Chempedak Forest Reserve to the idyllic Pelindung Beach. More trekking is available on the route from the beach to the mini zoo nearby at Taman Teruntum, which offers some real jungle environment.
Chendor Beach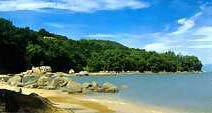 About one and a half km away from Cherating is the famous Chendor Beach. Here, from early July to September, you can watch green turtles or occasionally giant leatherback turtles lumber ashore to lay eggs. It is a ritual well worth experiencing. Besides the turtles, Chendor Beach offers fine bathing spots. Those seeking peace and seclusion will enjoy the beach.
Balok Beach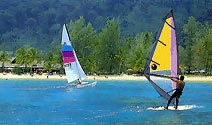 Balok beach is about 15km north of Kuantan and is a paradise for avid wind surfers. Truly perfect and serene with soothing tropical breezes, swaying casuarinas, and unending white sands in harmony with the azure blue sea. Relaxation is never easier.