As fresh as ever, from birth till now, Bangsar Seafood Village has been transformed to a place where seafood lovers, who once travelled miles to satisfy their cravings and feast on the variety of seafood that we have to offer. From the humble beginnings in 1988, Bangsar Seafood Village started to attract seafood lovers through relentless publicity. The result, it soon became a popular spot for these seafood connoisseurs, for reasons only their tastebud can comprehend.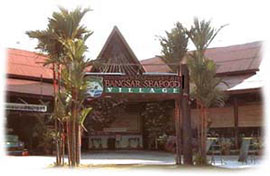 Established in 1988, Bangsar Seafood Village has been a favorite choice for seafood connoisseurs. Just for that irresistible freshness of the seafood cuisine, Bangsar Seafood Village have earned an enviable reputation as one of the leading seafood restaurants in the City.
Through these years, Bangsar Seafood Village has transformed in many areas. We can now offer you :-
A cosy 220-seaters non-smoking dining area decorated with flower motif wallpaper.
A large open-air area which is ideal if you like the feel of the fresh breeze as you enjoy your food
The Hut - A cosy and warmly lit extension of the restaurant with rustic decor.
The Claypot Corner - A corner serves economical home-cooked dishes.
| Index | Promotions | Location | Attractions | Marimari.com |