CATERING MANAGEMENT
[Index] [Promotion] [Location] [ Attractions ] [ Marimari.com ]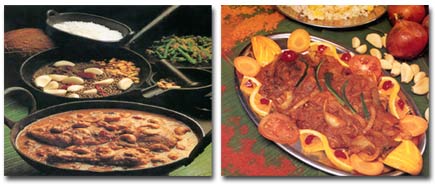 We take great pleasure in introducing our grandeur-catering establishment. D'tandoor Catering Management provides very personalized services to suit any type of function.
Our menu includes authentic culinary creations from various parts of India, Pakistan, Malaysia and other house specialties. We cater various Malaysian dishes, nyonya food, cakes, mouthwatering desserts and also theme functions.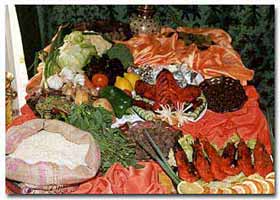 Elegant All-India decorations are utilized to enhanced the beauty of the food presentation. Spicing the excitement, some of the dishes are prepared on the spot, hence ensuring the freshness of the food served. With the uniqueness of our services follows serving food in traditional copper utensils like Copper Degchi and Pots. Splicing further enhancement in d'Tandoor catering services, our division also provides its very own Malaysian Hawker Style Concept.
The Chefs and Servers, experienced and well - trained, are aware of the finer points of d'Tandoor service by maintaining a high quality efficiency. Our service also includes manning its own bar and other amenities with excellent and detailed perception.
We cater for all kinds of food including takeaways, Special functions such as Chinese New Year, Berbuka Puasa, Hari Raya and Wedding services is also provided.
· HALAL · 1st Moghul Restaurant to serve crab sizzling, prawn broccoli and barrah kebab · Chefs specially flown in from India and Pakistan · Live classical Indian music performance
[Index] [Promotion] [Location] [ Attractions ] [ Marimari.com ]