| | |
| --- | --- |
| | Shopping |
Penang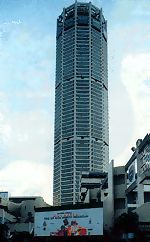 Penang is definitely a shopper's paradise, with hundreds of retail establishments located conveniently in and around the city. The main shopping areas in Penang are concentrated in Jalan Penang, Lebuh Campbell, Lebuh Kapitan Keling, Lebuh Chulia, and Lebuh Pantai. Few places can compare with Penang for its variety of goods and reasonably cheap prices. During the annual Penang Shopping Carnival, one can take delight in bargains galore. The merry atmosphere is not confined to major shopping centers but also to the ever popular and delightful venues like Campbell Street and Little India. In addition to special discounts, retailers will be offering gifts, and organizing fun filled competitions. Bargaining is still very much a part of life in Penang, hence one should not be afraid to haggle over prices or to ask for discounts, especially in smaller shops.
All exportation of local antiques can only be done with special permits obtained from the Director General of Museum, Malaysia. However, antiques that have been imported into the country and declared at Customs arrival check point may be exported. Penang is a haven for antique lovers in search of rare bargains. The junk shops along Rope Walk offer a range of antique items and bric-a-brac such as porcelain ware, chains, coins, old glass, old ceiling lamps, and of course antique clocks.
In the wake of recent intensive urban development, large shopping malls have started to sprout throughout the city limits and in the bigger suburbs, making shopping and window shopping a part and parcel of the lifestyle of the average Penangite. These shopping malls sell clothes, jewelry, luxury and souvenir items, as well as all kinds of food. At most of these malls, fast food centers and ice cream parlors operate the entire day. Shopping hours are from 11a.m. to- 9p.m.
Night markets are popular haunts in Penang. They usually operate in the suburbs. From early evening, stalls begin to line roadsides that are specifically closed to traffic for the markets. These markets locate themselves in a fairly large designated district and the venue for their operations move nightly. Some return to the same spot weekly, others circulate on a large basis, thus returning to one spot once or twice a month. The night markets are frequently well-patronized and sell foods of all types, knick-knacks, cheap clothes and t-shirts, audio and video cassette tapes, as well as household items. Sometimes, it is at these markets that some exotic and unusual items, like fruits that are difficult to find as they are only growing in small out-of-town villages or some rare potted plants, make their appearance. Many Penangites often visit night markets in their districts for a leisurely "eat and stroll" evening with their friends and families.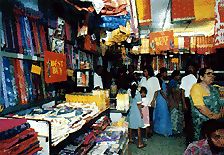 Souvenirs and handicrafts of various types can be purchased at most of the supermarkets and small shops, as well as at the night markets and the Penang Bazaar at Penang Road. There are also specific outlets selling popular items such as silverware, handbags, batik (clothes, materials and art works), watches, pewter, pottery, and food at the Penang International Airport and hotels. From time to time, government, private agencies, or societies run fairs or sales to promote special products. Batik, the highly versatile fabric, is available as individually designed pieces or as clothing, table-cloths, napkins, and furnishings. They may be purchased at factories in Teluk Bahang, souvenir shops at Batu Ferringhi, specialist shops in Penang Road, and in most departmental stores and shopping complexes. Batik paintings can also be found in galleries in Penang Road, Lebuh Leith, and Batu Ferringhi.
Wet markets in Penang offer yet another interesting sight for tourists. Fresh fish and seafood, vegetables, and local cakes are sold in these markets that normally operate from the very early hours of the morning until around 11a.m. With time, the items sold at these markets have increased in variety, from simply fresh food for breakfast to clothes and sundry products. Also, around many of the older wet markets, stalls and small shops can be found. These often sell food products, clothes or materials, household equipment, and toiletries.