| | |
| --- | --- |
| | Shopping |
Where To Shop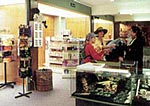 The three main shopping areas in New Zealand are Auckland, Wellington, and Christchurch. Auckland's Queen Street alone consists of shops selling almost everything, from electrical stores to music shops, boutiques to warehouses, and souvenir shops to duty free stores. Brands such as Sports Girl, Country Road, Glassons, and Principle are available on this street itself and during the summer and winter sales, bargains are hard to resist.
A walk up along Queen Street will lead you to Karangahape Road or more commonly referred to as 'K' Road. By day, the street boasts of secondhand clothing and furniture shops, magazine stalls, some old departmental stores, and a few adult shops. The ethnic cross-section of Auckland's Polynesian and European communities gives this little street its character. At night, this old street is awake with eccentric human characters roaming the pathways.
Other equally good areas for shopping in Auckland are Parnell and Newmarket. Parnell is a rather posh suburb filled with classy stores and trendy cafes. Newmarket, on the other hand, offers a wide range of international and local brands such as Guess, Levi, Hound Dog, Country Road, and many more.
In Wellington, the main shopping districts are in Willis Street and Customhouse Quay. The capital city also offers a good variety of clothes, souvenirs, and other items.
Christchurch's Cashel Street Mall offers the best prospect while Queenstown is the place to go for good quality souvenirs. Practically all the shops in the bristle streets of Queenstown are gift shops. Prices are usually fixed but bargaining is common. Queenstown is the exception to normal retail hours as most shops are open seven days a week for extended hours.