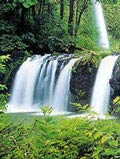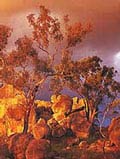 The Great Barrier Reef is the world's largest coral reef and is internationally recognized for its world class attractions and incredible natural features. The majestic coral structures that make up the Great Barrier Reef stretches over 2,500 kilometers and the world's most unusual plants and animals are found here. Today, its importance is ranked with America's Grand Canyon and the Galapagos Islands.
This is paradise for people who have a passion for water sports such as scuba diving, snorkeling, fishing, coral viewing, jet skiing, or just plain swimming. Magnificent diving spots include the Island of Bundaberg, Lady Elliot Island, Lady Musgrave, Heron Islands, as well as the ultimate Port Douglas. This area is also known for its outstanding sailing routes.
The rainforests of the Wet Tropics have primitive plants that have remained untouched for million of years and are rarely found elsewhere. Even previously unidentified species of birds, insects and mammals have sprung out to delight scientists and nature lovers. The public can view this nature's masterpiece by taking tours, cruises, and bushwalks. There are a variety of tours available, among them bird watching tours, ecological adventures, and camping trips.
For those more adventurous, try floating in a hot-air balloon, raft a foaming river, skydive, or race across the outback into the setting sun on a wilderness trailbike safari. Even better, join one of the 4WD excursion for a day or week to explore the rainforest or the outback.
Your choices for adventures and relaxation at the Great Barrier Reef are extensive and there is everything to suit everyone's preferences and budget.