The biggest inland city in Australia, Ballarat is also where Victoria's gold mining past begins. This town started in 1838 when an immigrant William Yuille camped on the shore of the Black Swamps, now known as Lake Wendouree. The name "Ballarat" was derived from two Aboriginal words, "Balla" and "Arat", meaning resting or camping place. In 1851, the cry of "Gold!" broke the peacefulness of this town and within months over thousands of diggers were here searching for their share of gold. The explosion of population caused this area to be declared as a town in 1852.
Today, Ballarat is again the peaceful town it once was. "Must visits" include Sovereign Hill, Gold Museum, and Ballarat Fine Art Gallery.
Sovereign Hill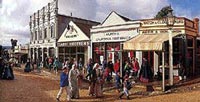 Sovereign Hill is the recreation of the days of gold rushing in Ballarat. Located on the outskirts, it offers visitors the chance to explore a unique period of Australia's history. Staffs are all dressed in period costume and trade as blacksmiths, bakers, grocers, waitresses, and or normal civilians amid the diggers' huts, tents, resident cottages, old meeting places, and the Chinese Village. All buildings and design of the town are still of the early period with wooden cottages, shops, and dirt roads. The most interesting is that visitors get to experience panning the creeks for gold themselves and finders are keepers! Also, try riding on a Cobb & Co coach or watch a military parade.
Interesting displays include the reproduction of gold mining methods. The town's fields produced an estimated 640,000kg of gold before being exhausted in the 1920s. Experience a guided underground mine tour and learn the technology of gold mining during the early days. At night, Sovereign Hill presents the graphic and sound spectacular "Blood on the Southern Cross", which recounts the story of the Eureka uprising, Australia's only armed rebellion.
The Gold Museum, which is a part of the Sovereign Hill complex, has changing exhibits that focus on the uses of gold throughout history and its appeal as a decorative metal. Sovereign Hill is truly a unique experience and offers all visitors an insight into Australia's early days and life. Highly recommended to all who are planning to visit Australia.
Ballarat Fine Art Gallery
The Ballarat Fine Art Gallery is Australia's largest and arguably best provincial art institution. There are more than 6,000 works of Australian art from colonial to contemporary times. Gold field artists include Eugene von Buerard, whose work "Old Ballarat as it was in the summer of 1853-54" is an extraordinary evocation of the town's early tent cities. The gallery's center of attraction is the original Eureka Flag, which is a symbol of the basic democratic ideals that are so much a part of modern Australian society.