| | |
| --- | --- |
| | Best of Macau |
Craft
Wooden Furniture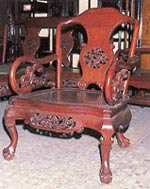 At the Tercena area below St. Paul's, visitors will see craftsmen carving wooden chests in traditional designs of China, and furniture according to some contemporary order. In Macau, there are factory outlets, which custom-make furniture according to individual tastes. Whether ancient or modern, visitors can have their furniture made from mahogany or camphor, inlaid with marble or mother-of-pearl, and shipped all the way to their homes.
To order furniture, visitors will have to go to agents who handle customized furniture. The Export Promotion Department can find contacts for interested buyers.
Polyester Flowers
Some of the best polyester flowers are produced in Macau. These flowers are exported to the USA, Europe, Australia, and the like. Macau's flower experts are skilled with their hands and are able to create various kinds of flowers. Orchids, poinsettias, roses, lilies, bridal posies, and Christmas wreaths are created so realistically that one will have to touch them to realize they are not nature's own.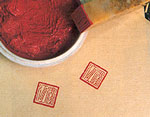 Before leaving Macau, it will be a great idea to get some souvenirs for oneself or for family and friends. A good recommendation for a souvenir is a personal 'chop' or seal made from soapstone. Numerous shops around town specialize in seals. These seals have been used in China for centuries and are still used today for personal affairs or for businesses.
Visit any shop and the shopkeeper will assist you in choosing a Chinese character to represent your name, which will be carved on the seal. The seal is sold in a box or purse, with a little inkpad.