| | |
| --- | --- |
| | Best of Macau |
Interests
Bird Walking & Shadow Boxing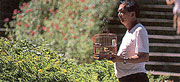 Bird walking is a common sight in Macau's many parks and gardens. At daybreak, as in the olden days of China, men are seen 'walking' their small, bright songbirds in delicate bamboo cages. After a relaxing morning walk, both man and bird will venture to a teahouse to have their breakfast. At the same time, the owner will start boasting about his particular pet to other bird enthusiasts.
Other times, the men will hang their cages on a tree branch and join others in tai chi chuan exercises, which is also known as 'shadow boxing'. The slow, choreographed movements are excellent for toning up the body and mind.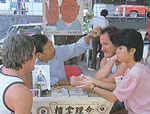 Walk down Leal Senado square and you will see a row of small tables lining the sidewalk under the arcades. The friendly-looking fellows sitting there are fortune tellers who are capable of amazing you with their ability to analyze your character. A cranial chart on display with its jigsaw puzzle of Chinese characters is the tool in which they use to tell you more about yourself. They also offer to read your palm or face to advise you of what is in store for your future.
Chinese Chess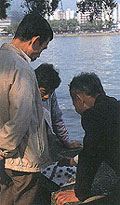 Along the Praia Grande seawall, several men gather around two individuals sitting in an arched manner looking downwards at a piece of paper. Those who are curious as to what is happening may just approach the crowd and sigh with relief, as they see that the two individuals are engaged in a friendly game of chess. However, one should not be fooled, as the game being played is not exactly similar to the Western-style chess. As complicated as the Japanese 'Go', the board used in Chinese chess is a roughly drawn piece of paper or cloth and the pieces are well-worn bits of wood bearing different characters. The game is played with extreme concentration and discussion, surpassing even the skills of the Western chess players.