| | |
| --- | --- |
| | General Info |
Geography
Macau is situated southeast of China, on the western bank of the Pearl River Delta of Guangdong Province. It lies 70 kilometers southwest of Hong Kong and 145 kilometers from Guangzhou.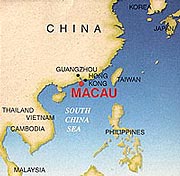 Macau has a total area of approximately 21 square kilometers, consisting of a narrow peninsula of Macau, which is linked to the People's Republic of China at Portas do Cerco ("Border Gate"). The territory is also connected to the island of Taipa by two bridges, the old bridge "Governor Nobre de Carvalho" (2.6km) and the new bridge "Amizade" (4.4km), which in turn is joined to the island of Coloane by a 2.1km causeway.
The weather in the territory is moderately hot, with an average annual temperature of just over 20° C and a yearly mean variation between 6 to 25° C with high humidity in summer (April - September). Humidity percentages range from 73 to 90%. Do expect an occasional short period of heavy rains and sporadic tropical storms.
A good time to go to Macau would be during the autumn season, which is from October to December, when days are sunny and warm and the humidity low. Winter is from January to March and it can get cold, but one can expect to have some periods of clear skies as well.