| | |
| --- | --- |
| | General Info |
People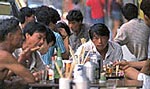 To date, the population of Macau is approximately 450,000, of which 95% are Chinese nationals and 5% Portuguese, Europeans, and other nationals.
A majority of the population live in the Macau peninsula. The two islands are places where people can go to relax, especially Coloane, which is the garden of the Territory, where there are lots of parks and greenery.
Portuguese and Chinese are the two official languages, with Cantonese as the most widely spoken. English is Macau's third language although it is generally used in trade, tourism, and commerce.