| | |
| --- | --- |
| | Popular Places |
Art Galleries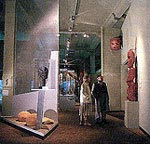 New Zealand has 21 public art galleries. Listed below are among the larger ones.
The gallery established on Wellesley/Kitchener Street in Auckland was opened to the public in 1888. Collections include New Zealand paintings, sculptures, drawings, prints and photographs, all dating from the 1800s onwards. A wide range of Frances Hodgkin's collection and European Old Master paintings and drawings can be viewed. Others consist of a small Gothic collection, 20th Century Japanese prints, and international sculptures and prints. The gallery opens daily from 10 a.m. to 4:30 p.m. Free guided tours are available at noon (Mondays - Fridays) and 2 p.m. (Sundays).
Established in the 1880s, the gallery offers a large collection of 18th and 19th century English watercolors, as well as major oil portrait and landscape artists from the 16th to the 19th century. New Zealand's local collections from the mid-19th Century and a retrospective series of Frances Hodgkins are also featured. Dunedin Public Art Gallery is open from 10 a.m. to 4:30 p.m. (Mondays - Fridays), and 2 to 5 p.m. (Saturdays, Sundays and public holidays).
One of the best collections of contemporary art in New Zealand is displayed in this complex on Queen Street, New Plymouth. Artists like Patrick Hanly, Michael Illingworth, Colin McCahon, and Brent Wong are represented. Another important collection is Len Lye's kinetic sculptures, paintings and films. Operating hours are from 10:30 a.m. to 5 p.m. (Mondays - Fridays), and 1 to 5 p.m. (Saturdays and Sundays).
This building holds works of all major contemporary painters of New Zealand from 1880. Two large collections of drawings by James Cook and oils, watercolors and drawings by H. Linley Richardson are also featured. Located in Palmerston North, the museum opens from 10 a.m. to 4:30 p.m.
The National gallery holds a medley of New Zealand, Australian, British, and other nationalities' 19th and 20th century paintings, drawings, graphic arts, and sculptures. The focus is on New Zealand art from 1840 with a wide selection of early watercolors, oil paintings and drawings. This gallery, located at Buckle Street in Wellington, also keeps a range of etchings and engravings by old and modern Masters and is open daily from 10 a.m. to 4:45 p.m.
Located at the Botanic Gardens in Christchurch, Dutch, French, Italian and British paintings, drawings, printmaking and sculptures are featured. The New Zealand collection, especially the Canterbury works, is one of the most comprehensive in the region. It is open daily from 10 a.m. to 4:30 p.m.
A permanent exhibition of New Zealand's oil paintings, watercolors, and prints from the 19th and 20th centuries can be seen in this gallery at Queen's Park, Wanganui. Western art of the same centuries are also displayed, with British and European works including drawings by Poccetti, the Denton Collection of 19th and 20th century photography and an exhibition of World War I posters and cartoons. The Sargeant Gallery is open from 10:30 a.m. to 4 p.m. (Mondays - Fridays), 10:30 a.m. to noon (Saturdays), and 1:30 to 4 p.m. (Sundays).
This gallery focuses less on collecting work than on temporary New Zealand art and design shows. It is located on Victoria Street in Wellington, and is open daily from 10 a.m. to 6 p.m. and 10 a.m. to 8 p.m. on Wednesdays.