| | |
| --- | --- |
| | Popular Places |
Museum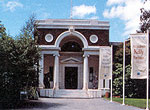 It is easy to learn of New Zealand's historical past as there are many museums in the main centers, provincial cities, and smaller towns.
This exquisite museum is set in the beautiful parklands of Auckland Domain, the city's best known park. The museum's exhibitions consist of a collection of Maori and Pacific artifacts and carvings. Other sections include material devoted to New Zealand's natural history, Asian and other applied arts, maritime and war history, the history of Auckland, and a planetarium.
The museum also manages a library, the Auckland Astronomical Society, a anthropology and Maori Studies section, a conchology section, and the Ornithology Society of New Zealand. It opens daily from 10 a.m. to 5 p.m.
The Art and History Museum of Rotorua is home to a number of collections tracing the development of painting and printmaking in New Zealand. Some of the works by Christopher Perkins, Rita Angus, Colin McCahon, Toss Woollaston, W.G. Baker and a host of other contemporary local painters are exhibited in this gallery.
Other selections include images of the Maori in paintings and portraits, 6,000 prints of the volcanic plateau area, and a colonial cottage reflecting the period from 1870 to 1900 when Rotorua was settled by Europeans. There is a Kauri gum collection and a wildlife display relating to the timber industry, which dominates the region. The gallery has a new wing that is dedicated to the local Te Arawa Maori people and portrays a wide variety of their artifacts. The museum opens daily from 10 a.m. to 4 p.m.
Opened in 1870, the museum is located on Rolleston Avenue in Christchurch. The museum has the world's largest display hall on Antarctica. These exhibits include a 27 meter (87 ft) skeleton of an Antarctic blue whale and equipment used in various expeditions. Inside the museum is a reference library and theater where films are shown. Other features include a hall of oriental art, an ornithological display, a costume gallery, a street of shops, and a Maori cultural section including artifacts from the moa hunting era. It is open daily from 10 a.m. to 4:30 p.m.
Located on York Street, Russell, this museum is named after Captain James Cook, who is the founder of New Zealand. Displayed items include several local relics of the early European settlement, which includes specimens of Maori culture, war exhibits, whaling gear, and relics of the early traders and missionaries. The museum is open from 10 a.m. to 4 p.m. (Mondays - Saturdays), 2 p.m. to 4 p.m. (Sundays), and 8 a.m. to 5 p.m. daily during school holidays.
This gallery is situated on a 4 hectare site alongside the Heathcote River, Christchurch. The trust's historic park exhibits vintage machinery, cars, bicycles, gigs, fire engines, tramcars, railway engines, airplanes, home appliances, and agricultural and printing equipment. It also features rides on a 1.5 km tramway and a 1 km (˝ mile) railway. Take note of the last Kitson steam tram locomotive with trailers, which was built in Leeds, England in 1881. The trust opens daily from 10 a.m. to 4:30 p.m.
The museum is a renovated two-story, former bank built in 1875 on Buckingham Street, Arrowtown. Displays include mining and geological items such as gold and mineral specimens, gold-miner's tools, and relics belonging to the Chinese miners. Domestic and agricultural items, old machinery, and a collection of horse-drawn vehicles are also exhibited. There is a series of 3,000 early photographs, books and documents relating to local history from 1862 to the 1920s. The museum opens daily from 9 a.m. to 5 p.m.
MOTAT is located on Great North Road in Western Springs, 5 km (3 miles) from downtown Auckland. Displays consists of a working tramway and railway, vintage cars, carriages, air craft, the development of printing and photography, calculating machines from the abacus to the computer, and a colonial village where buildings are preserved and stored. A special feature is the remains of Richard Pearse's aircraft, which flew successfully twice in March 1903, three months after the Wright Brothers and 'Meg Merrilees', a F class saddle-tank locomotive built in 1874 by the Yorkshire Engine Co. of Sheffield, England. MOTAT opens from 9 a.m. to 5 p.m. (weekdays) and 10 a.m. to 5 p.m. (weekends and public holidays).
This NZ$280 million building by the Waterfront in Wellington features traditional Maori art and culture, including woodcarvings and decorated houses, canoes, weapons, and other artifacts. The museum presents one of the best collections of Polynesian art and artifacts in the world, Micronesian and Melanesian collections, along with many exhibits from Southeast Asia.
Other selections are the European discovery and settlement in New Zealand, geological history of the region, collections of flora and fauna, including the remains of the moa, a large flightless bird that once inhabited New Zealand. The National Museum opens daily from 10 a.m. to 4:45 p.m.
Stationed at 220 Cumberland Street in Dunedin, the museum first opened in 1908. Collections shown are records and documents of emigration and early settlement in the Otago area. An extensive range of pioneer relics, including folk crafts, costumes, whaling relics, gold relics, and household devices are available for viewing. Paintings and photographs depicting early settlers and settlements are also exhibited. Operating hours are from 8:30 a.m. to 4:30 p.m. (Mondays - Fridays), 10:30 a.m. to 4:30 p.m. (Saturdays), and 1:30 p.m. to 4:30 p.m. (Sundays).
This gallery on Brecon Street, Queenstown, houses more than 60 exhibits. Although periodically changed, the exhibits always include veteran and vintage cars and motorcycles, as well as post-vintage and post-World War II models and aero engines. Some of the many makes on display are the Bentley, Rolls Royce, Aston Martin, Maserati, Mercedes, and many other European specialist cars. The museum opens daily from 9 a.m. to 5:30 p.m.
Specializing in British traction engines, steamrollers and portable engines, this complex is located on Lethbridge Road, 4 km (2˝ miles) north of Fielding. Twenty exhibits at various stages of restoration can be seen. This unique museum opens on Sunday afternoons, with the third Sunday of each month being a Steam Day. It also opens at any time through arrangement with the Secretary.
The five-story building at the corner of Victoria and Grantham Streets in Hamilton houses the restored Maori war canoe Te Winika, and contemporary Tainui carving and tukutuku weaving. A changing program of exhibitions draws on the museum's large collection of New Zealand fine art, along with Tainui and Waikato history. National and international touring exhibitions are also featured regularly. Hours begin daily from 10 a.m. to 4:30 p.m.