| | |
| --- | --- |
| | Shopping |
Shaw House

The Shaw House is a popular Japanese "one-stop" shopping department store. It occupies five floors of this trendy complex. The cinema is equally as popular as the retail, cosmetic, and food outlets.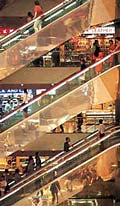 Far East Plaza
Not to be confused with Far East Shopping Centre, this bustling center sells almost everything at affordable prices. A local department store occupies the basement and carries a wide range of goods at reasonable prices.
Scotts Shopping Centre
Top quality fashions from well known local designers share this building with designer label shops. It is a place where contemporary designs and traditional lines make shopping an international experience with a local touch.
Tangs
Since 1932, Tangs have been giving buyers quality merchandise at affordable prices. There are five floors in this massive building that house a huge range of products. They range from fashion accessories to electronics items. Highlights include the silk, batik, and casual clothes.
Lucky Plaza
Lucky Plaza offers shoppers the experience to test their bargain skills. This center boasts of a large selection of shops that sell almost everything. An American discount store takes up a whole floor on the highest level.
Wisma Atria
A major Japanese department store is located in Wisma Atria. It also offers a nice mix of boutiques and specialty shops, such as those for sporting goods, jewelry, children's wear and toys, and electrical and electronics goods.