| | |
| --- | --- |
| | Shopping |
Shopping in Singapore need not be confined to Orchard Road or its vicinity. There are many other places to visit within the country. Shoppers will be able to find a variety of goods in shopping centers and even small shops around the city and suburbs.
Bugis Road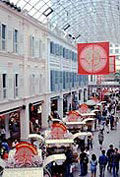 From alleyways to sailors' haunts, Bugis Road has transformed to become a highly urbanized and sophisticated area. Shophouses have been restored; new shopping complexes and office tower blocks have been erected, thus making it possibly one of the best known places in Singapore. Although highly modernized, care has been made to ensure the area's old-world charms are not taken away. Small shops line the streets selling everything from electronic items to clothes. With the addition of Bugis Junction, a trendy mall, visitors will definitely enjoy the fascinating mix of old and new cultures blended together. Bugis Junction, on its own, is a great place to visit. A Japanese retailer is located within its premises, as well as various specialty shops that cater to people of all ages and groups.
Clifford Centre and the Arcade
Located in the heart of the financial district, there is a vast array of specialty and souvenir shops that will promise visitors a multitude of surprises. Roadside cobblers and shops add a local touch to the center.
Little India

Little India is the best place to buy almost anything that is Indian. Handicrafts, Kashmir silk, peacock feathers, and flower garlands are examples of some of the things available in Little India. Good buys include beautiful saris (traditional Indian woman's dress), muslin, brassware, cooking utensils, and India-designed jewelry. Pop-art posters of Hindu gods and Indian movie stars are available for purchase. Visitors can also choose to visit Serangoon Plaza, an emporium cum department store, which is located at the other end of Serangoon Road.
Note: Please visit Ethnic Domains under Popular Places.