You Are Viewing :

Home / Tour / Brunei /

Brunei Night River Cruise & Firefly with Dinner Tour
Brunei Night River Cruise & Firefly with Dinner
Package Information

Code
MBE04
SIC Frequency
Once Daily
Departure
Hotel in Jerudong - 5.30 pm / Hotel in Bandar - 6.00 pm
Duration
4 Hours
Meal
Dinner
Description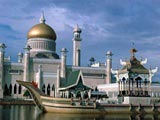 The tour starts with pick up from your hotel and transfer to a local restaurant for dinner.
After dinner, you will be taken on scenic leisure cruise along the Brunei river passing the water village and glittering Royal Palace before entering the serene and quite mangrove and nipah palm area.
This is where you can see the beautiful flashes of the fireflies in the dark. The firefly is a species of insect that live in the wet areas of South East Asia and flashing light is actually a way of communication for this unique insect.
At the same time, we will be on the look out of other nocturnal animals of the mangrove like the night heron, monitor lizards and some aquatic life forms. If you are lucky, you might get a close encounter with a wild Borneo salt water crocodile.

The tour ends with transfer back to your hotel.



Please Take Note :
*** Advisable to bring insect repellent on this tour ***

You may aslo interest with other Brunei Day Tours :

You may aslo interest with other Brunei Tours :