You Are Viewing :

Home / Tour / Brunei /

Selirong Island Mangrove Tour
Selirong Island Mangrove Tour
Package Information

Code
MBH07
SIC Frequency
Once Daily
Departure
Hotel in Jerudong - 7.30 am / Hotel in Bandar - 8.00 am
Duration
4 Hours
Meal
Nil
Description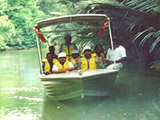 Selirong Conservation Forest is one of the most unique forest parks in Brunei. The 2,566 hectare island is clothed by largely pristine mangrove forest.
The tour begins with pick up from your hotel and proceeds to the jetty area in the city. Continue with a scenic boat ride for around one hour before we reach the island. Upon landing on the island, you will experience a unique feeling like entering another world with its unique captivating sights, sounds and smells.
You will be taken on a walk along a 3 km plank walkway on the island where you can observe and learn about the unique world of mangrove.
One of the most unique animals to look out for is the colugo. It is a nocturnal mammal that spends the day asleep in a tree hole or hangs upside down on a branch and sometimes clings to a vertical trunk of the mangrove tree. Your tour ends with drop off at your hotel.

Please Take Note :
** This tour requires a minimum of Five Brunei Government working days booking due to the requirements to obtain entry permit from the Forestry Department.
You may aslo interest with other Brunei Day Tours :

You may aslo interest with other Brunei Tours :