An oasis resting in the heart of the vast Australian red desert, Alice Springs is surrounded by wonders of nature. Tourists often use this town as a base from which to tour the surrounding spectacular natural sights. Alice Springs is also a small and compact town with just five streets running from Wills Terrace in the north to Stuart Street in the south.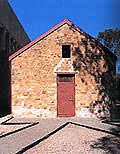 Museum of Central Australia
The Museum of Central Australia is situated in Alice Plaza and the bulk of its display concentrates on local natural history. Exhibits of fossils, flora and fauna, meteorite pieces, and minerals are accessible. Aboriginal arts and artifacts are also on display.
Stuart Town Gaol
The Stuart Town Gaol is the oldest surviving building in Alice Springs. It opened in 1909, was in use until 1938, and was then closed and replaced by a new prison, which was built on Stuart Terrace. The gaol is now available for public tours.
Alice Springs Desert Park
The Alice Springs Desert Park introduces you to the landscapes, animals and plants of Australia's deserts and their traditional use by Aboriginal people. There are hundreds of species of plants and animals on display in their own natural manmade habitat such as dry creeks, salt lakes, and red sand dunes. There are also a variety of endangered and rare species of birds on display here. This park is just a short ten minutes drive from Alice Springs.
Strehlow Research Centre
The Strehlow Research Centre is dedicated to the work of Professor Ted Strehlow (1908-1978). This center also has the best collection of rare Aboriginal artifacts in Australia. Professor Strehlow was born in Alice Springs, received his university training from Adelaide University, and then went home to study the ways of the Aranda people. The Aranda community realized that their traditional ways where threatened and sought Strehlow to record secret rituals as well as to keep their sacred objects. Many of these are held in the center's vault and cannot be exhibited due to local taboo.

Anzac Hill
At the northern end of Alice Springs, Anzac Hill overlooks the city and affords an admirable view of the MacDonnell Ranges. This is the perfect spot for viewing the area's sunrise and sunset.