The first British to have sailed into the sandy beaches of Port Darwin was Captain John Lort Stokes in 1839. However, the port was named after his friend, Charles Darwin. Since the European settlement in 1864, Darwin has experienced a century of colorful history. From the gold rush in the 1890s to bombing attacks by the Japanese during World War II to the devastation by the fearful winds of Cyclone Tracy in 1974, Darwin has lived through the ups and downs a city can ever experience. Today, Darwin is completely rebuilt and has emerged as a modern but relaxed town where more than 50 ethnic groups of Asian-born Australians mingle with Aborigines and Europeans from earlier periods of immigration.
Darwin offers all the elegance of a cosmopolitan city with restaurants, hotels, museums, art galleries, as well as nightlife. Additionally, Darwin's tropical boundaries are a splendid charm with the Timor Sea and the flourishing greens of the tropical wetlands.
Major attractions in the city center includes the Old Darwin Town House, the Old Police Station and Courthouse, Lyons Cottage, Bicentennial Park, and Stokes Hill Wharf. However, many of Darwin's best attractions are not in the city center but located a short drive away. These include Mindil Beach Sunset Markets, Aquascene, and the notable Aboriginal Art Gallery.
Old Darwin House
Located at the bottom of Smith Street, the Old Darwin House is a limestone ruin that used to be council chambers. Built in 1897, it was damaged by the terrible winds of Cyclone Tracy in 1974.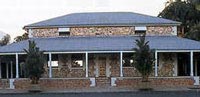 Old Police Station and Courthouse
Built in 1884, the limestone Old Police Station was also damaged by the cyclone but was restored and now serves as administration offices.
Lyons Cottage
This building used to be the British-Australian Telegraph Residence and was built in 1920. Today, it contains an exhibition of photographs detailing life in the Top End during that era.
Bicentennial Park
Home to many World War II memorials including the attack by Japanese bombers who flew over Darwin Harbour on February 19, 1942, sinking 21 of the 46 U.S. and Australian naval vessels in port and killing 243 people, this park provides pleasant shady walks and lookouts for visitors.

Stokes Hill Wharf
A center for tourists and locals, the long wooden Stokes Hill Wharf was once the town's main port area. The area is now filled with restaurants, bars, and shops.
Mindil Beach Sunset Market
The Mindil Beach Sunset Market is one of several Asian-style food markets with more than 60 food stalls serving Thai, Indonesian, Indian, Chinese, Sri Lankan, Malaysian, and Greek cuisine. The market opens every Thursday night during the dry season.

Aquascene
At Aquascene, visitors get to feed and play with hundreds of scats, catfish, mullet, and milkfish.
Aboriginal Art Gallery
This gallery houses over 2,000 works of arts and exhibits describing both the anthropology and creation stories of local Aboriginal groups.