Devonport
The third largest city in Tasmania, it was named after the county of Devon in England. Many visitors to Devonport will arrive on the Spirit of Tasmania, an overnight ferry from Melbourne, although a new catamaran service, the 90 meter Devilcat, takes just four hours from Melbourne to George Town, an hour east of Devonport. However, if you are not in a hurry, taking the ferry is recommended as it is more comfortable and there are also lots of entertainment and relaxation facilities on board such as a casino, luxury family restaurants, and pubs. Devonport is the perfect starting point to start your tour of Tasmania.
Aboriginal rock paintings mark the entrance of Tiagagarra, a Tasmanian Aboriginal art center located 1km from the city center. This cultural center, which is linked by a coastal reserve and parklands, features a collection of over 2,000 ancient aboriginal artifacts.
Launceston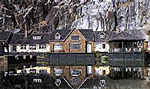 Launceston is a charming city with old buildings, parks, craft galleries, and hilly streets lined with weatherboarded houses. The third oldest city in Tasmania, it has a population of 76,000 and is surrounded by farmland, thus retaining the city's intimacy of a large country town.
The main attraction in this city is the Penny Royal World in Peterson Street, which is a complex of historic windmills, corn mills, and gunpowder mills moved from their original locations stone by stone. The working model of a 19th Century gunpowder mill has 14 barges, which will take visitors underground to observe the production process. From here, you can also take the Lady Stelfox ferry for a cruise down the harbor.
Richmond

A quaint village, Richmond is located in the heart of the countryside 26km from Hobart. This was the first area granted to free settlers from England for farming and a township reminiscent of their homeland was built at its center. Richmond now includes some of Australia's oldest colonial architecture. One of the many interesting structures include Australia's oldest sandstone bridge, a gaol and Roman Catholic Church, all built in 1823, 1825, and 1834 respectively. They occupy many of the historic homes and cottages on the main street between the old general store and post office. Today, Richmond is a bustling center for rural artists and artisans.
Port Arthur

The most popular historical site in Australia is Port Arthur, which used to be a penal settlement located 110km from Hobart. From 1832 until transportation was abolished in 1853, Port Arthur was the dumping ground for many of the colony's most dangerous convicts and repeat offenders. The settlement was set up on this remote site to be escape-proof; even if prisoners fled from the prison itself, they could never get past guards on the narrow isthmus of Eaglehawk Neck. Eaglehawk Neck was lined with guard outposts and chained, savage dogs. Additionally, the icy waters were thought to be full of sharks.
Although transportation from the mainland ceased in 1853, the prison remained in operation until 1877, by which some 12,000 men had passed through what was commonly regarded as the harshest institution of its kind in the British Empire. Between 1979 and 1986, a conservation project was undertaken to restore the prison ruins. The site is now Tasmania's most popular tourist attraction.