Cradle Mountain Lake St. Clair National Park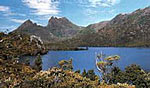 Cradle Mountain is the second highest mountain in Tasmania and reaches 1,560m at the northern end of the 161,000-ha Cradle Mountain Lake St. Clair National Park. The park stretches 80km south to the shore of Lake St. Clair, the deepest freshwater lake in Australia. The jagged contours of Cradle Mountain are now recognized as an international symbol of the state's natural environment. Wild landscapes, ancient rainforest and alpine heathlands, buttongrass and colorful deciduous beech provide a range of environments to explore. Icy streams cascading out of rugged mountains, stands of ancient pines mirrored in the still waters of glacial lakes, and a wealth of wildlife ensure there is always something to captivate you.
The most spectacular view is across Dove Lake from Cradle Mountain. This view can be accessed by foot or from the carpark at Dove Lake. There are also numerous walks in the area including the Dove Lake Loop Track that takes you through the astonishing Ballroom Forest, which is a domain of cool temperate rainforest nestled against the slopes of the mountain. Other walks include the Weindorfers Forest Walk and the famous Overland Track.
Flinders Island
Flinders Island is located on the northeastern tip of Tasmania in the waters of the Bass Strait. Largest among the Furneaux Group of Islands, these 50 or so dots in the ocean are all that remains of the land bridge, which once connected Tasmania with the mainland.
Flinders Island was also the destination for the last surviving 135 Tasmanian Aborigines. Reverend George Augustus Robinson requested to bring these Aborigines with the aim of saving them from extinction and converting them to Christianity in the 1830s. However, his plan failed due to diseases on the island and these Aborigines were transferred to Oyster Cove, a sacred Aboriginal site south of Hobart. Within a few years, however, all Tasmanian Aborigines were extinct.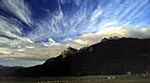 Today, Flinders Island is preserved as a natural reserve and the Strezlecki National Park is especially popular among hikers. Cape Barren Island, located off the south coast of Flinders, is home to the Patriarch Sanctuary, a protected geese reserve.
Activities in Flinders Island include fishing, diving and snorkeling, mountain climbing, swimming, bird watching, and exploration of the great views and lookouts of the island.