| | |
| --- | --- |
| | Popular Places |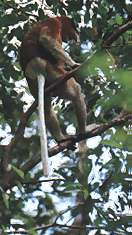 There is no better place than Sarawak to discover the wonders of a tropical rainforest. Sarawak's rainforests, which covers over two-third of the state's total land area, are virtually nature's paradise. These rainforests are ecological wonders; each site has its individual eco-system supporting its own range of wildlife. It is home to almost 2,000 astonishing species of some of the world's most exotic plants and animals. Watch the antics of the leaf eating proboscis monkey, marvel at the bloom of the Rafflesia, and take a look at the carnivorous hornbill. These are some of the flora and fauna specimens that the ever watchful can discover on a jungle walk. A few of the national parks are: Mulu National Park, Niah National Park, Bako National Park, and Similajau National Park.
Mulu National Park
Situated in the far northeast of Sarawak, it is the gate way to fantastic and gigantic caves.
Niah National Park
300 miles up the coast from Kuching, hidden in the forest of Miri is Niah National Park.
Bako National Park
Sarawak's oldest national park was established in 1957 on a 2,728 hectare site.