| | |
| --- | --- |
| | Best of New Zealand |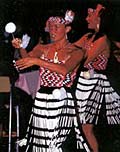 New Zealanders have made a profound impact in the areas of art, poetry, music, film, and architecture. Not only have the artists reached local recognition, but also gained worldwide apperception. New Kiwi self-confidence is revealed intensely in literature, film and theater. Opera diva Kiri Te Kanawa performs regularly nationally and internationally. Writers such as Witi Ihimaera, Albert Wendt, Patricia Grace, and Keri Hulme are also international figures.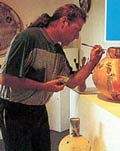 In the past, Kiwis were hostile towards art. In 1982, the McDougall Gallery in Christchurch planned to spend $10,000 on a painting by Colin McCahon, arguably the country's most significant and contentious painter, and this triggered ire among locals. At present, however, McCahon's paintings are auctioned at very high prices in many international collections.
A contemporary of McCahon is Gordon Walters, an artist who examines the relationship between a deliberately narrow range of forms, mostly the koru or fern bud. The rendering of this local Maori symbol in a recognizable European abstract style, which is almost similar to Klee or Mondrian, gives Walters' work a distinctively New Zealand flavor.
Housing many collections of modern New Zealand art is Auckland's Aotea Centre. Many newcomers and established international New Zealand artists such as Sir Toss Woollaston, Gretchen Albrecht, Pat Hanly, and Ralph Hotere have their works displayed in art galleries around the country.
Visual art is another increasing art form in New Zealand. Most visual artists here are involved with matters concerning political causes or movements. Works of Maori women such as Robyn Kahukiwa, Kura Te Waru Rewiri, and Shona Rapira Davies illustrate a concern for the land, whanau (family), antiracism and antisexism, and reflect the revival of Maori pride and values.
The greatest expatriate artist of New Zealand was Len Lye (1901-80) who won an international reputation as a pioneer of direct film techniques (scratching images directly on to celluloid) and kinetic sculptor. His works can be viewed at the Govett-Brewster Gallery in New Plymouth, which specializes in the works of New Zealand sculptors.
Novelist Janet Frame realized her love for writing ever since she was a mere child growing up in a poor South Island family. Born in 1924, Frame has published over 20 novels, four collections of stories, poetry and children's books, and three volumes of autobiography - To the Island, An Angel at My Table, and The Envoy From Mirror City.
Other Maori and Pacific Island post-colonial novelists include Witi Ihmaera, Patricia Grace, and Albert Wendt. All have had an impact on the New Zealand literary scene in the 1980s and '90s. Award winning novelist Keri Hulme achieved worldwide literary status with her Booker Prize winning novel, The Bone People, in 1985 and is still writing from her home in the South Island.