| | |
| --- | --- |
| | Best of New Zealand |
Farming Life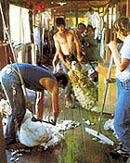 New Zealand is a country predominantly built by its farm produce. The country's livestock, particularly sheep, amount to more than half of the entire living population. Throughout the North Island regions of Waikato, Taranaki, and Manawatu, and South Island's Canterbury, Otago, and Southland regions, dairy farming is very much the main trade for locals.
Farmers work on their land each day, shearing sheep for their wool, milking cows using high-tech machines, and maintaining their crops. Crops such as grapes and olives flourish on many hillsides. Deer, ostriches, goats, and even lavender are all in commercial production. More than 60 varieties of cheeses are produced here, including the aorangi, akronia and blue supreme.
According to recent reports, it was estimated that nearly 25 percent of all farms in New Zealand have seen a change of land use in the past decade. Dairy farming and forestry have expanded and is predicted to continue for some time. Kiwi farming families have encountered several hardships and challenges but most would not swap their jobs for the world. Still responsible for producing over half of New Zealand's merchandise exports, with dairy products currently being the biggest single export earner of any, they've scoured the world for fresh opportunities. Buyers from Asia and Australia have supported the country's trade, although traditional sales to Europe may have deteriorated. Nevertheless, the spirit of innovation and motivation have led to the branching of various agriculture and horticulture in the country that would bring even greater lucre for New Zealand.