| | |
| --- | --- |
| | Best of New Zealand |
Maori Culture
Maori Art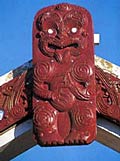 Classic Maori art is an unprecedented pacific tribal art, which is not only stunning to the eye, but also unveils a great deal about their society's beliefs, history and social structure. Many creative styles and much skilled craftsmanship produced, and will continue to yield, objects of surpassing beauty. To interpret the accomplishments of Maori arts and crafts, it is useful to have an understanding of the materials used, the techniques of crafts, design and symbolism, and the economic, social and religious requirements that inspired the making of art objects.
The core of Maori arts and crafts is the working of wood, stone, bone, fiber feathers, clay pigments, and other natural materials. However, the most dominant of all crafts are those carved from wood. Basic needs of daily life - canoes, storehouses, dwellings, village fortifications, weapons, domestic bowls, and working equipment - were all made of wood. In short, Maori culture was basically a wood culture.
Music is an important aspect of Maori life. Flute-like instruments were fashioned by classic Maori wood, whalebone, and even stone. Ancient songs and chants (waiata) are significant features of ceremonies such as funerals (tangi) and weddings. Dances are also incorporated with music. Maori dance is both rhythmic and physical, with the beat added by the thumping of chest and thighs with the hand, foot stamping, or sometimes by hitting sticks.