| | |
| --- | --- |
| | Popular Places |
Rotorua
Years ago, many people would have liken Rotorua to hell. Entering Rotorua was like entering Hades except that one would return unscathed. This analogy seemed apt as Rotorua is situated on a volcanic rift, which stretches 200 km (124 mile) from White Island off the coast of the Bay of Plenty to Lake Taupo and the volcanoes of Tongariro National Park in the Central Plateau of North Island. Roaring geysers hurling heated water into the air and bubbling mud pools are common sights and sounds. If visitors were to stay long enough, the hair will start to smell of rotten eggs, the smell of sulfur, and everything else will eventually follow suit.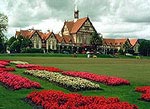 Despite its negative connotations, Rotorua is a famous tourist spot with much of its fun activities starting from Fenton Street. Most of the town's biggest hotels and motels are located here. A beautiful garden sits at the northern end of the Street while a magnificent Bath House dominates the area. Built in 1908, it was once a sophisticated spa center but is now an interesting local museum and art gallery. To its right are the Polynesian Pools that contain a number of thermal pools with their own specialties, such as different mineral contents in varying temperatures. It was believed that one could obtain relief from sicknesses such as rheumatism by bathing in the warm waters of the pools. The Orchid Garden sits in front of the pools. It consists of two temperature-controlled glass houses that are filled with some of the world's finest blooms.
The Whakarewarewa thermal area is a must. The greatest geyser in New Zealand is found here. The Pohutu ("splashing") geyser on Geyser Flat could reach a height of more than 30 meters (about 100 feet). A personal favorite would be the Maori pa, which has a spacious meeting house at the entrance of Whakarewarewa. Maori concerts are performed there in as original and realistic settings as possible. The Maori Arts and Crafts Institute where skilled Maori carvers and flax weavers can be observed at work is also situated here. Try not to miss the intricately carved archway that leads to the area depicting Hinemoa and Tutanekai embracing, two figures from a past myth. A bottom path will lead you to a past Maori settlement where the tribes have, for generations, used the thermal water in their daily lives for cooking, washing, heating, and the likes.
In Tyron Street, there are numerous things to observe and buy at the Little Village. Products range from sheepskins, furs, handicrafts to lots of other souvenirs. Do not miss this chance to observe a greenstone carver at work.
The Arikapakapa Golf Course is next in line. Its uniqueness is that it is the only one in the world with boiling mud pool "traps" and hot pool "hazards".
There are the aromatic delights of the Herb Garden, which is located on Highway 5, just 4 km (2.5 miles) from the city. Nature lovers will surely enjoy a visit to Rainbow Springs and Fairy Springs with their clear natural pools full of brown, brook and rainbow trout. It is a refreshing place to be at; be surrounded by 12 hectares (30 acres) of native tree ferns and natural pools. Species of New Zealand deer, native birds and kiwis in a nocturnal house will awe any visitor to the springs. Across the road is the Rainbow Springs Farm Show where sheepdogs can be seen at work.
Close by is the Skyline-Skyrides terminus. Ride on the gondolas for a breathtaking view. The most awesome view of the city, lake, and its surrounding countryside is midway up Mount Ngongotaha.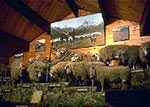 Northwest of Rotorua, near Ngongotaha, is the spacious Agrodome, a 142 hectare (350 acres) land of pasture. The not-to-be-missed 'sheep shows' are held here three times daily, where 19 trained rams are put through their paces for an hour. An educational and entertaining performance, visitors will leave the place with a handful of freshly shorn wool for sweet memories of the place.
For more trout, try out Hamurana Springs on the northern shores of the Paradise Valley, 11 km (7 miles) west of Rotorua. A word of caution though, it is illegal to buy or sell trout in New Zealand although it is quite easy to fish for them. Guides are aplenty for those interested in a fishing trip.
There are many more interesting places in Rotorua. Here is a list of such places :
The Farm House rents out ponies and horses for riding over 245 hectares (600 acres) of bush-edged farmland.
Using the west-shore road, Okere Falls and Hinemoa Steps are located clockwise around Lake Rotorua.
The Kaituna River can be seen after a short walk through a native forest and down a cliffside.
Visitors will come to the very door of Hell's Gate, which is across the Ohau Channel outlet into Lake Rotoiti, turning east on to Highway 30 towards Whakatane. The volcanic activity covers 4 hectares (10 acres) and is highlighted by the Kakahi hot waterfall.
Farther down Highway 30 are the shores of Lake Rotoiti, Rotoehu and Rotoma. It is also worth visiting the natural and unspoiled Lake Okataina.
Take a side-road between Lake Rotoehu and Rotoma to Soda Springs. The hot water here trickles through into a clear streambed.
Lake Tikitapu (Blue Lake) and Lake Rotokakahi (Green Lake) are favorite jogging and riding grounds. Horses and ponies are available for hire and the lakes reflect beautifully contrasting blue and green colors on a clear day. (pic: waimangu)
The world's largest boiling lake, the Waimangu Cauldron, is located 20 km (12.5 miles) south of Rotorua on Highway 5 towards Taupo.
Lake Rotomahana, a refuge for black swans, is also the site of the lost Pink and White Terraces. (pic: waiotapu)
The Lady Knox Geyser, located at the Waiotapu ("sacred waters") thermal area, is prompted to erupt each morning at 10.15 a.m. by pouring soap down its throat!
Other attractions include the bubbly Champagne Pool, tinted silica terraces, and Bridal Veil Falls.