Fire Flies/Mangrove Cruise/Fishing Village Tour (Dinner)
Package Information

Excersion From
Sandakan
Pick Up Time
1615 hrs
Departure
1630 hrs
Durations
5 hrs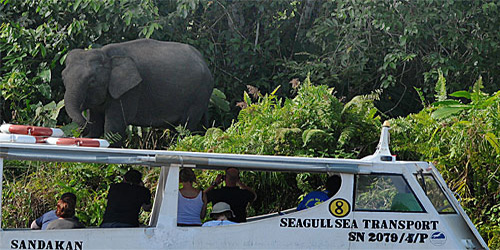 Itinerary
Late afternoon by 1615hrs, pick up from hotel in Sandakan, we transfer to a fisherman village. Upon arrival at the village, have a simple tea break, short briefing about the village and the fire flies activities. Houses are built on stilts and it is very interesting to walk around the village. Very often, kids will be having their play time at this hour and please feel free to join them in some of the interesting village games. After that, proceed to a boat cruise to learn more about the mangrove forests and a chance to plant trees in the area. While cruising, drop some fish/crab traps along the river and see if we are lucky to get some for the dinner. As it gets darker, we will be able to see the fire flies lighting up the trees around us. The programme will end with a dinner. After dinner, transfer back to your hotel

Important Note :
Min 2 Person
Please bring Raincoat (wet season Nov-Feb), cap/hat, insect repellent, sun cream, good walking shoes, socks, comfortable cotton T-shirt with long or short pant, binocular, camera and personal medications.
All the above are all EX – SDK city hotels only based on minimum 2 pax & above with SIC(SEAT IN COACH) .
Outskirt surcharge applies for outskirts hotels.
Tours based on first come first serve basis on SIC (Seat in Coach) guided with English Speaking Guide.
We reserved the right to CANCEL / ALTER the tours of the programmed if necessary due to unforeseen circumstances for the guests' safety.
Child age 2 ~ 11 Years: 20% discount from adult's rate.
No REFUNDABLE for unused tour and 100% cancellation will be charged for tours cancel within 24 hours.
Tipping for Tour Guide & Driver is not included.
Rates subject to be changed without prior notice or FUEL HIKE.

You may aslo interest with other Sabah Tours :

Tour Description
Duration
Meals
Depart From Kota Kinabalu
Cultural & Lifestyle Tour - Kota Kinabalu

3 Hours
7 Hours
3 Hours
3 Hours
3 Hours
1 1/2 Hours
3 Hours
Fullday
Fullday
Fullday
Fullday
3D / 2N
3D / 2N
3D / 2N
4D / 3N
4D / 3N
4D / 3N

-
L
-
-
D
-
D
L
L
L
L
B, L, D*
2B, L, 3D
2B
B, L, D*
3B, 2L
3B, 2L

Island Tour - Kota Kinabalu

Fullday
Fullday
3D / 2N
4D / 3N
5D / 4N

L
L
2B, 3L, 2D
3B, 4L, 3D
4B, 5L, 4D

Mountain Tour - Kota Kinabalu

Fullday
Fullday
Fullday
2D / 1N
2D / 1N
2D / 1N
2D / 1N
3D / 2N
3D / 2N
4D / 3N
4D / 3N

L
L
L
1B, 2L, 1D
1B, 2L, 1D
1B, 2L, 1D
1B, 2L, 1D
2B, 3L, 2D
1B, 3L, 2D
3B, 4L, 3D
3B, 3L, 2D

Adventure Tour - Kota Kinabalu

Fullday
2D / 1N
3D / 2N
3D / 2N
6D / 5N
7D / 6N

L
1B, 2L, 1D
2B, 3L, 2D
2B, 3L, 2D
5B, 6L, 5D
6B, 7L, 6D

Eco Treasure Tour - Kota Kinabalu
Wildlife Tour - Kota Kinabalu

Fullday
Fullday
Fullday
Fullday
Fullday

Depart From Lahad Datu
Wildlife Tour - Lahad Datu

2D / 1N
3D / 2N
4D / 3N
3D / 2N
3D / 2N

1B, 2L, 1D
2B, 3L, 2D
3B, 3L, 3D
2B, 3L, 2D
2B, 3L, 2D

Depart From Sandakan
Life Style & Leisure Tour - Sandakan
Wildlife Tour - Sandakan

Halfday
Halfday
Halfday
1D / 1N
1D / 1N
1D / 1N
2D / 1N
2D / 1N
2D / 1N
2D / 2N
2D / 2N
3D / 2N
3D / 2N
3D / 2N
4D / 3N
4D / 3N

L
L
-
1B, 1L, 1D
1B, 1L, 1D
1B, 1L, 1D
1B, 2L, 1D
1B, 2L, 1D
1B, 1L, 1D
2B, 2L, 2D
1B, 2L, 2D
2B, 3L, 2D
2B, 3L, 2D
2B, 3L, 2D
3B, 4L, 2D
3B, 4L, 3D

Private Tour - Sandakan

2D / 1N
3D / 2N
4D / 3N
4D / 3N
5D / 4N

1B, 2L, 1D
2B, 3L, 2D
2B, 4L, 3D
2B, 4L, 3D
4B, 5L, 4D