| | |
| --- | --- |
| | General Info |
Economy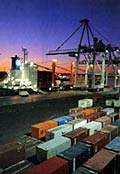 Today, New Zealand enjoys a rather stable domestic economy with a positive outlook for the country underpinned by government plans to reduce its foreign currency debts. The preponderance of the country's export earnings comes from agriculture, in particular meat, wool and dairy products.
Forestry is one industry that is expanding, supporting an important pulp and paper production. Although the region has few resources, apart from coal, lignite, natural gas, and gold, its hydroelectric power prospect has been exploited to produce plentiful cheap electricity - an important basis of New Zealand's manufacturing industry. The Kapuni field on the North Island and the Maui Field off the Taranaki Coast supplies natural gas that is converted to liquid fuel for utilisation in the domestic and foreign markets.
Although the country is small and remote from the world's major industrial powers, New Zealand has a fairly high standard of living.