| | |
| --- | --- |
| | General Info |
Geography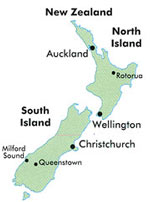 New Zealand is a long and narrow mountainous country, approximately the size of Japan and California that lies below the Australian continent, running from north to south. Total land area runs up to about 269,057 sq. kilometers (103,883 sq. mi) in two main islands - the North Island and South Island. Another smaller island is Stewart Island.
The North Island is hilly with remote mountains, including volcanoes, two of which are active. Lowlands in the North Island are mainly restricted to coastal areas and the Waikato Valley.
In the South Island, the Southern Alps run from north to south, and the southwest reach the sea in the deeply indented coast of Fjordland. Mount Cook is the highest point, standing at 3,754 meters (12,315 ft). A major rockslide reduced the height of the mountain by 10 meters (33ft) in December 1991. The Canterbury plains lie to the east of the mountains.
New Zealand's chief rivers are Waikato, Clutha, Waihou, Rangitaiki, Mokau, Wanganui, and Manawatu. The capital city of the country is Wellington, near the foot of the North Island.