| | |
| --- | --- |
| | General Info |
General
Climate
New Zealand experiences four seasons with moderate rainfall throughout the year. Being an island, it enjoys a very smooth temperate weather with only about 10 degrees difference between winter and summer. During the summer (December - February), temperatures vary from 16 - 25°C in the North Island and 13 - 22°C in the South Island. Autumn commences during the months of March to May. The North Island normally expects a temperature between 13 - 19°C, while the South Island can range from 7 - 17°C.
The day becomes shorter as winter approaches and rain is expected with dark, gloomy clouds carpeting the sky above. The coolest months are between July and August. Temperatures are slightly higher, from 8 - 13°C, as compared to the South's 2 - 10°C.
The best time to visit the country is in spring, when the skies are clear and the weather cool. Both North and South Islands enjoy mildly cool temperatures, 11 - 17°C, with the South being slightly chillier. The sun shines brightly and flowers bloom beautifully; an excellent time to go for picnics at the park or just a stroll along the beach.
New Zealand is 12 hours ahead of Greenwich Mean Time (GMT).
Daylight saving applies during summer from early October to late March. Time is advanced by one hour to give extended daytime throughout summer. Time in the remote Chatham Islands, 800 kilometers (500 miles) east of Christchurch, is 45 minutes ahead.
Most hotels and motels provide 110 volt AC sockets (rated at 20 watts) for electric razors only. For all other equipment, an adaptor/converter is necessary, unless the item has a multi-voltage option. Power outlets only accept the flat three or two-pin plugs as illustrated above.
Owing to limited free medical services, it is advisable that visitors acquire health insurance. New Zealand cities and towns have excellent public water supplies and tap water is always safe to drink. However, do refrain from drinking water from lakes and streams.
The Ministry of Health, Regional Health Authorities (RHA) and local authorities are obligated to promote and protect the health of their communities, including the condition of plumbing and drainage, sanitation, and housing. Public water supplies, food safety, sewage and rubbish, swimming pools, and other areas with health implications are within the domains of care of these authorities.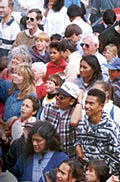 New Zealand has a total population of 3.7 million people and is continuing to grow at a rapid pace. An independent nation, the country is a member of the Commonwealth nation with a majority of British people. Almost 80% of New Zealanders have European ancestry, not only from Britain but also from Germany, Italy, the Netherlands, former Yugoslavia, and others.
The second largest population group is the Maori at 12.9%. Five percent of the population comes from the Pacific Islands - mainly Western Samoa, Cook Islands, Niue, Tokelau, Tonga, and Fiji. Asians are also part of the population of the country. Some have lived here for generations, while some are immigrants from Taiwan, Hong Kong, Malaysia, and Singapore.
The official languages spoken in New Zealand are English and Maori. To some, Maori is their first language, but to others, it is a second. Many people have started to learn the Maori language, as many places, plants and birds are Maori. Many other Maori words have also enriched New Zealand's English language.
The Asian minorities here speak languages such as Chinese, Indian, Korean, and Japanese. Some European New Zealanders have also adopted these other ethnic languages to experience other cultures.
In New Zealand, religion is a matter of individual conscience. Christianity is the dominant faith, with the main groups being Anglican, Methodist, Presbyterian, and Roman Catholic. Other religions are Buddhism, Hinduism, Islam, and Judaism.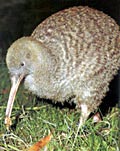 The kiwi is New Zealand's national bird, which adopted its name from the cry of the male. The nocturnal bird eats fruits, insects and worms. Kiwis are rather shy and prefer to isolate themselves in dark areas of bushes or hideouts, rarely making public appearances. Kiwis do not have wings and cannot fly, but it seems that their ancestors were once able to. Like many other native birds, it is believed that the kiwi may have well flown to New Zealand only to become flightless later.