| | |
| --- | --- |
| | General Info |
Government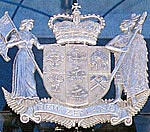 New Zealand is an independent state that practices a centralised democracy system with a 120-member House of Representatives elected by universal adult suffrage (under a system of 'mixed member' proportional representation) for three years. There are four electorates specifically for Maori who choose to vote on a separate roll. The remaining half of the house is chosen according to the proportion of each party's support in a special 'party' vote on election day. The remaining members of parliament are electorates.
The Head of State is the British monarch, Queen Elizabeth II. New Zealand's Prime Minister is appointed by the Governor General, a representative of the British Queen as sovereign of New Zealand. The PM is also responsible for electing a Cabinet, which is bound to the House.
The state is further divided into cities and districts, each with their own separate authorities. These local authorities are obligated to their electorates and must abide by Parliament rules, but matters such as local taxes on landed property are monitored on their own. Main political parties are the Labour Party, the (conservative) National Party, the Alliance Party, and the New Zealand First Party.
New Zealand law is based on statues enacted by Parliament, as well as cases decided in New Zealand courts, otherwise known as 'Common Law'. Courts operate freely from government intervention. Judges are appointed (not elected) by the Governor-General and in accordance to the 'rule of law', Ministers, MPs and public servants do not hold special exemptions from the law.