| | |
| --- | --- |
| | Popular Places |
Dunedin
If one were to drive around Dunedin, it would take from 90 minutes to one full day to travel the 64 km (40 mile) route. The journey should start from the "low road" and return via the "high road".
The first place seen is Glenfalloch, a lovely 11 hectares (27 acres) of woodland gardens. Following that is Portobello with its local museum and Portobello Marine laboratory. Observe and touch marine life such as the 6 meter (20 ft) shark, small shrimps, sea horses, octopuses, and penguins in aquariums and "touch" tanks.
Next on the list is Otago, which houses a 'carved' Maori church and meeting house. Although they appear carved, they are actually cast in concrete. Behind the church is where three great Maori chiefs of the last century were buried. This marae is the most historic Maori site in Otago and is extremely sacred to the local Maori people. Those interested in the history of the Maori culture will benefit from the Maori Museum. Up north in Otago is where you will see remnants of the whaling industry, which was founded in Otago Harbour in 1831, 17 years before European settlement. An old factory is still standing in the town and is marked by a plaque. Across the road is another plaque that marks the first Christian service held in Otago Harbour by Bishop Pompalier in 1840.
From Otago, head on towards Taiaroa Head, the tip of the Peninsula. Look up to the sky and feast in the glorious sight of the rare Royal Albatrosses, the world's largest birds. They are extremely graceful creatures and the Trust Bank Royal Albatross Center, which has viewing galleries and display areas, will have more information. An unusual artifact in the Trust Bank is the Armstrong Disappearing Gun, which was built in 1886 at the height of a "Russian scare".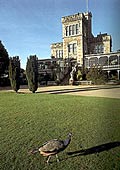 Drive one mile to the east and the Penguin Place will greet you with rare Chaplinesque yellow-eyed penguins 'strutting' the surfs.
Dunedin also houses the only castle in New Zealand, Larnach Castle. The Castle is about one century old and was home to Hon. William J.M. Larnach, a financier who later became Minister of the Crown. The castle took 14 years to build and an English workman along with two Italian craftsmen spent 12 years carving the ceilings. After a time of restoration, it is now opened to the public.