| | |
| --- | --- |
| | Popular Places |
Like the rest of New Zealand, Queenstown is a pretty place too. The town center consists of rows of quaint looking cafes and never-ending souvenir shops with plenty of gifts to choose from at reasonable prices. T-shirts with little lambs printed on it are a common sight in town, as well as everywhere in New Zealand.
Don't let the calm façade in Queenstown deceive you though. Many people have stepped into it and left with exciting and breathless encounters to talk about and remember for years to come. If there is one thing that Queenstown is synonymous for, it would be adventure sports. Well known for its adrenaline pumping sports activities, Queenstown would leave you gasping and a little weak in the knees. There does not seem to be an end to the variety of adventures available. When you think that you have exhausted every possible sport, a new and crazier activity will jump out at you. New Zealanders simply enjoy jumping off bridges, speeding down shallow rivers, and rolling down hills on inflatable balls, with safety in mind, of course.

The less adventurous need not feel out of place as other equally interesting activities are available, such as trout fishing and excursions on the steamship Earnslaw, which gently cruises the waters of Lake Wakatipu.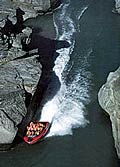 Swift-flowing rivers near Queenstown are great for white-water rafting and jet-boating adventures. Imagine speeding over rapid shallows barely ankle deep in a 'propellerless' power boat! Be thrust by jet streams, which is when the water is drawn in through an intake at the bottom of the hull and pumped out at high pressure through a nozzle at the rear. The jet boat can actually skim over shallows no more than 10 cm (4 inches) deep, and can execute sudden 180-degree turns within a single boat length. Commercially, the most famous of them all would be the Shotover Jet. It swerves up and down the Shotover River, traveling at breakneck speeds in close proximity to the rocky banks; you will feel as if your head is just a hair's breadth away from the rocky walls.
Canoeing, yachting, windsurfing, parasailing, water-skiing, and hobie-cat sailing, a well as hydrofoil and jet-bike rides are other water activities one should try in Queenstown.
The most popular activity though in this adventurous town is bungee jumping. One of the recent additions to the bungee jumping locations is at the top of the Skyline gondola overlooking Queenstown. Another famous location would be at the historic Kawarau Bridge. Of course, there is the Skippers Canyon, which is one of the world's highest bungee jumps, located right at the end of a dramatic four-wheel-drive ride.
As the name suggests, this dive is done with a professional attached to your back. The both of you would then free-fall for about 30 seconds at a speed of 195 km/h (120 mph). The only time you catch your breath is during the four-minute final descent by parachute.
Those who find bungee a little "boring" should try rap jumping, the latest thrill. It will definitely present the city in a new light or rather, angle!