| | |
| --- | --- |
| | Popular Places |
Central Area
The central area of Korea encompasses Ch'ungch'ong-do province. It is an area filled with broad stretches of paddy field, interspersed with rugged mountains. The main cities are Taejon, Kongju, Puyo, Ch 'ongju, Ch' ungju, and Tanyang.
Taejon
Taejon, approximately two hours south of Seoul by car, is one of the area's main cities. It is a major train junction for the Seoul-Pusan and Seoul-Kwangju-Mokp'o-Yosu lines, and is rapidly becoming one of Korea's major scientific centers.
EXPO Park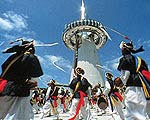 Located northwest of Taejon, the 125 acre area where Taejon EXPO '93 was held has been renovated into a public science park. The EXPO Park features many state-of-the-art pavilions such as the Starquest Pavilion, Technopia Pavilion, Earthscape Pavilion, Vision of Korea Pavilion, and the Han-Bit (Grand Light) Tower, which was constructed to commemorate Taejon EXPO. Visitors can easily experience Korea's heritage, science facilities, and the natural surroundings in a single trip.
Kongju
Kongju was the capital of the ancient Paekche Kingdom (18B.C.- 660A.D.) for 60 years. Kongju is now a small town, but there are still many of Paekche's treasures in evidence. Its main attraction is its National Museum, which exhibits treasures from the 6th century tomb of King Munyong. Although most Paekche tombs were pillaged over the centuries, King Munyong's Tomb was left untouched until its excavation in 1971. Thousands of articles such as gold crowns and bronze mirrors were unearthed. A model shows visitors what the real tomb looked like when it was excavated.
Puyo
Puyo, located 20 miles south of Kongju, was the last capital of the Paekche Kingdom. It is a place rich in legends. Many remains date back to the kingdom's final struggle against the forces of the Shilla Kingdom (57B.C.-935A.D.) and its ally T'ang China in 660A.D. A steep hill in Puyo's city center is the site of the Puosansong Fortress where the Paekche forces made their last stand.
Mt. Songnisan National Park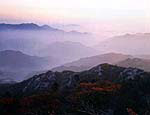 Mt. Songnisan National Park, located in Ch'ongju city, is one of the most popular tourist spots in the central part of the Korean Peninsula. The park's Popchusa Temple was established in 533A.D. during the Shilla Kingdom (57B.C.-935A.D.). This temple displays many famous artworks, including P'alsangjon, the oldest wooden building in Korea, a stone lantern, which is a National Treasure, and a famous 108-foot-high bronze statue of Buddha.
Ch'ungju & Tanyang
Ch'ungju and Tanyang, located close to each other, are gateways to many local parks and historic sites.
Ch'ungjuho Lake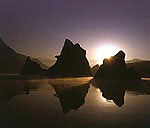 Ch'ungjuho Lake offers a wide variety of water sports in the mountainous area of central Korea. Cruise boats ply the 32-mile-long waterway between Ch'ungju and Tanyang. Passengers can also enjoy a stunning view of Tanyang P'algyong, the "Eight Scenic Wonders" of the limestone region surrounding Tanyang.
Suanbo Hot Spring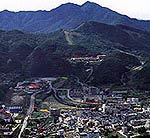 Suanbo is the oldest hot spring in Korea located in a quiet misty mountain. In addition to its superior water quality, it is well known for its scenic surroundings. This 53 Celsius degree radium spring contains calcium, sodium, and fluoride. The water is known to be effective against skin diseases, neuralgia and rheumatism. It is also a popular place for skiing, golfing, and swimming. Many special stage shows are held here in the spring.
Kosudonggul Cave
Kosudonggul is a natural cave that contains glistening stalactites of all shapes and sizes. The cave is so magnificent that it is often called the "Underground Palace".
Independence Memorial Hall of Korea
In Ch'onan, a one-and-a-half hour drive from Seoul, stands the Independence Memorial Hall of Korea. The memorial hall commemorates those who had struggled for freedom against foreign invasions throughout Korea's long history. The hall collects, studies, and exhibits historic artifacts and materials related to Korea's efforts to identify and record the nation's development and progress.