| | |
| --- | --- |
| | Popular Places |
Seoul was made Korea's capital city in 1394 at the beginning of the Choson Dynasty (1392-1910). Currently a home to 10.1 million people, it is the financial, political, commercial, recreational, educational, and cultural center of the republican nation. It also has major corporation banks, government offices, leading schools and universities, theaters, and entertainment facilities throughout the city. Seoul is a blend of the old and new. Numerous skyscrapers tower above the graceful architecture of ancient gates, palaces, and temples, thus reflecting the legacy of its previous era. One will surely be overwhelmed by the charm that bestows the city.
Palaces
There are 4 palaces located in Seoul. All represented different kings during the last dynasty, the Choson Dynasty (1392-1910).
Kyongbokkung Palace

Built in 1394, the third year of the Choson Dynasty, the 40-acre palace is a splendid symbol of the dynasty. It was a magnificent collection of over 200 buildings but was tragically burned down during the Japanese invasion at the end of the 16th century. It is, however, still considered the most beautiful in terms of architectural styles. Currently, there are about 10 buildings in the complex. Elegant pavilions, such as Kyonghoeru, Hyangwonjong, Kunjongjon, and the 10-story Stone pagoda of Kyongch'onsa Temple display the unique charm and beauty of Korean architecture. The National Folk Museum, which was opened in 1975, is also located within the palace compound. It serves as an exhibition for many artifacts that represent the Korean traditional way of life.
Ch'angdokkung Palace

Ch'angdokkung was actually constructed in 1405 as an auxiliary palace to Kyongbokkung Palace. However, it became the main palace for the 15th king of the Choson Dynasty. In 1997, the Ch'angdokkung palace was added to UNESCO's prestigious World Heritage List. It is best known for the Secret Garden, or Piwon, which comprises of 78 acres of gardens superbly landscaped with pavilions, ponds, and wooded areas.

Ch'anggyonggung Palace
Built in 1418, this palace is a well-preserved royal complex with elaborate bridges and gates that evoke visions of an earlier era. It is also adjacent to the Ch'angdokkung Palace.
Toksugung Palace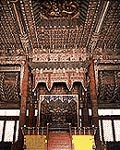 Toksugung was originally built as a royal villa. However, as other palaces were burnt down during the Japanese invasion in 1592, Toksugung was then used as a palace. Today, the complex is filled with commanding structures. Sokchojon, among other buildings in the palace grounds, is the first Renaissance-style building in Korea. It now houses the Royal Museum, which exhibits items used by the royal court.