| | |
| --- | --- |
| | Popular Places |
Korea's southwestern area has been strongly influenced by the Paekche Kingdom (18B.C.-660A.D.). Rich with rice fields, it is often nicknamed the "rice bin" of Korea. The farmland slopes gently down to the coast and the jagged coastline is indented with many small harbors. The major cities include Chonju, Kwangju, Namwon, and Mokp'o.
Unjusa Temple
Unjusa Temple, established by the great Buddhist monk Toson-guksa during the Unified Shilla Period (676-935A.D.), is famous for its many pagodas and Buddhas. According to the traditional theory of geomancy, the Korean Peninsula was thought to be unbalanced and in danger of capsizing because there were fewer mountains in Honam, the southwestern part of the peninsula, than in Yongnam, the southeastern part. To prevent this disaster, thousands of Buddha statues and pagodas were erected at temples in the southwestern part of the peninsula. Today, 18 pagodas and 80 Buddhas remain at Unjusa Temple.
Namwon
Namwon is a favorite sightseeing and climbing spot in the southwest area. This country town is famous as a town of royalty (ch'ung), devotion (hyo), enthusiasm (yol), and salutation (ye). It was also home to Ch'un-hyang, a legendary faithful maiden. A Korean traditional narrative song (Chunhyang Ga P'ansori) adapted from the original story is often performed here.
Mt. Chirisan National Park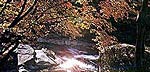 Chirisan, called the "especially wise and intelligent" mountain, is the second highest mountain in Korea after Hallasan in Chejudo. It was the first National Park that ranges over 3 provinces (Chollanam-do, Chollabuk-do, and Kyongsangnam-do). One can see beautiful river valleys that flow through the virgin forests and a sea of clouds on top of the mountains. Ten temples and cultural relics are scattered about Mt. Chirisan, including Hwaomsa Temple at the foot of the mountain. Good preparation is necessary before climbing.
Chonju
Chonju is Korea's seventh largest city and is famous for the manufacture of Korea's traditional mulberry paper, hanji. Hanji is used in calligraphy and in making umbrellas, fans, and other items. It is also famous for the delicious rice, vegetable, and meat mixture called pibimpap.
Kumsansa Temple
Located southwest of Chonju, Kumsansa Temple is one of the largest and most important Buddhist shrines in the province. The temple holds many Buddhist treasures. The Maitreya Buddha Hall is over 20 meters high. It is the only ancient, wooden, three-story hall in Korea.