| | |
| --- | --- |
| | Popular Places |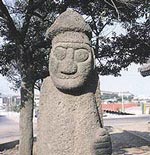 Chejudo is one of the nine provinces of Korea. It is only an hour's flight south of Seoul and less than that from Pusan or Taegu. Chejudo is Korea's largest island and living folk village. As a result of its isolated location and romantic tropical image, it is a paradise for honeymooners and tourists. Chejudo is famous for its golf courses and beach resorts. The calm, translucent waters are suitable for swimming with mid-July to late August as the best time for water sports. The steady wind makes it an ideal place for windsurfing. You can also enjoy small game hunting, horseback riding, racing at racetracks, and most major hotels would have casinos. Two of the island's most unique features are the Tolharubang and Haenyo. Tolharubang (stone grandfathers), which are black lava statues of a kind old man can be seen everywhere. In the past, they were regarded as guardian deities, but they are now part of the attractive scenery in Chejudo. Haenyo, on the other hand, are the island's women divers. They dive to the ocean floor for abalone, clams, and other shellfishes without any artificial breathing aides.
Yongduam (Dragon Rock)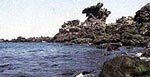 An unusual rock formation, Yongduam got its name from the fact that it looks like a dragon's head with its mouth open. It is located on the outskirts of Cheju City. The basalt figure has been created over the years by wind and waves. Around the area, the renowned Cheju Haenyo (local women divers) can be seen working, and you can purchase fresh sea cucumbers, sea squirts, and abalone from them.
Songsan Ilch'ulbong (Sunrise Peak)
Songsan Ilch'ulbong (Sunrise Peak) is a volcanic crater on the far eastern end of Chejudo Island. Surrounded by 99 peaks, it looks like an ancient castle when seen from afar. A trail leads up to the western edge of the crater and scales the crater's steep slope. A climb up this narrow trail will reward the climber with the most spectacular view. At sunrise, the scene is even more exhilarating. In this area, you can enjoy fresh abalone, shellfish, and octopus that have been collected by Haenyo (local women divers). A 120-ton ferry cruises around Songsan Ilch'ulbong and nearby Udo Island every hour.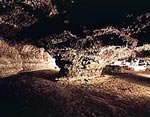 Manjanggul Cave
At 13.4 km in length, Manjanggul Cave is the longest lava tube in the world. It showcases many uniquely shaped lava stones and pillars.
San-gumburi Crater
As one of the three major craters on the island, San-gumburi Crater is located 1,437 ft above sea level. It is home to 420 different species of subtropical, temperate, and alpine plants. Many restaurants in this area also serve traditional Chejudo food. There are also many resting-places and ranches for horseback riding and hunting.